What problem did you have before ordering our service?
We thought about the service through the call center for a longer time. We decided between our own call center under our management or ordering a service from a company that provides these services. We chose the PARADIGMA call center partner and made the right decision. We are a real estate agency with nationwide representation. Our real estate agents work with clients at a time that primarily suits them. During meetings with the client, the broker gives priority to the client, so he cannot handle other incoming calls at this time. We wanted to ensure availability for our clients at all times, 7 days a week, including weekends and holidays. In this way, clients always contact us and our brokers can prioritize meetings with their clients.
Were your expectations met?
We are available for our clients 7 days a week from 8:00 a.m. to 8:00 p.m. Anyone who is interested in selling or buying real estate is sure that they can call and immediately arrange a meeting or a viewing. Almost two years of cooperation fulfilled our expectations.
What benefits have you gained thanks to our cooperation?
Each client calls and can arrange a personal meeting or inspection of the selected property with our real estate broker already during the first call. We make sure every call is covered. Quality service is a priority for us.
Would you recommend us to others?
For companies that receive numerous telephone requests and want to provide their services in a standardized and high-quality manner, certainly yes.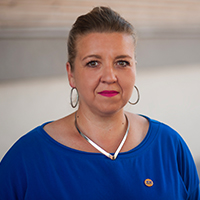 Mgr. Barbora Tomašcová
coordinator
TUreality